Coaching
Are you a closet novelist who has buried their creativity beneath a pile of paperwork or ironing? Do you write within your career but wish you could use your talent to write for the love of writing instead? Are you struggling to believe anyone would be interested in reading your words?
You used to love creative writing but you let it go. You've concluded it's not realistic to make it as a writer these days.
You have a successful career. You are good at your job. It pays the bills and feeds your family, though you do find yourself wondering why it all feels so repetitive.
You realise it's been an age since you last wrote for pleasure. You've always wanted to write a book or to capture your ideas in a blog, but how can you possibly justify being so self-indulgent?
You've barely enough time in the day to keep the plates of life spinning. When you do have a rare moment to think, maybe on your dreary daily commute or out on a run, you are full of great ideas which end up going nowhere. 
It doesn't have to be like this.
As George Eliot said, "It's never too late to be who you might have been."
Just think what it would be like to let your creativity bubble up and out onto that blank page. You could become a published writer.
You could find the space and time to enjoy being a wordsmith. Perhaps you will scribble longhand in a beautiful journal, sitting in the corner of a bustling café. Maybe you'll be on a laptop in a library, immersed in an imaginary world, building characters and plots. You could spend your evenings writing short stories for competitions, or a weekend at a writers' seminar on 'Getting Published' You'll feel free to explore your ideas, capturing them, shaping them and releasing them into the world for others to enjoy. As you practice your craft, you'll crave opportunities for feedback, opportunities to hone your skills, opportunities to discover your audience and how to reach them. When people ask, "What do you do?" You will be proud to answer, "I am a writer."
I'm Nikki Vallance. I love all things creative; I always have. From baking to sketching, from performing arts to writing, creativity has always been at my core. At school I was an 'all-rounder.' As a result, far from this being a blessing, I found myself making sensible choices instead of pursuing my true passions. My early career meandered from a degree in Chemistry, through a three year stint in Chartered accountancy eventually settling in a long and successful period within recruitment.
I was caught up in an enjoyable corporate career and whilst I used my words to craft professional emails and persuasive marketing material, it couldn't truly satisfy that creative part of me. The typical long hours in recruitment meant I couldn't devote the time to nurture my ideas. I'd always wanted to write a book but I let my personal writing slip way down the list.
Alongside my career I trained in an internationally accredited coaching qualification. It gave me an opportunity to work with others to help them reach their goals and fulfil their potential.
But then, when I decided to work with a coach of my own, things changed. By setting myself a goal to allow creativity back into my life, mysteriously, out of nowhere the idea for my novel was born.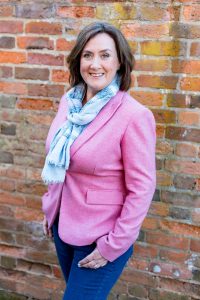 Coaching Programs
I specialise in providing coaching services to writers and aspiring writers who have a commitment to unleash their creativity. My coaching provides support and inspiration in goal setting, a fresh perspective during periods of transition, and 100% belief in your potential
I'll work with you to…
– Clarify your priorities and visions
– Develop lasting belief in yourself
– Set goals to inspire you into taking action
– See beyond what you are today to what you can be tomorrow
There are three coaching programs on offer: The Debut, The Sequel and The Bestseller. Read on to discover more about each package and decide which one best suits your needs.
The Debut
Not sure where to start? Not sure if you are good enough? Not even sure how to find the time? If your head is a tangle of ideas which you're finding impossible to prise apart, this stand-alone goal setting package is a great springboard. A way to unravel your thoughts and get writing!
Included:
1 1.5hr goal setting session (via free online conference call)
1 Months free subscription to The Writers' Pod (worth £30)
1 Complimentary Pen to Paper Journal (worth £10)
£175
The Sequel
You've been inspired. You think you have a great idea. You may even have taken some steps along your writing journey. Your challenge is a lack of structure and time. With the support and accountability of regular coaching sessions you feel you can get on track and find the self-determination to succeed. This program is ideal for writers with a clear idea of where they are heading who'd like help to map out the best route to reach their destination.
Included:
1 1.5hr goal setting session (via online conference call)
5 1hr coaching sessions (via online conference call)
1 complimentary Pen to Paper journal (worth £10)
Regular booked session slot every two weeks
£600
The Bestseller
You feel you have neglected your creativity. You know you want to write but still have to overcome some personal challenges. You have made a commitment to yourself that now is the time to nurture your creative soul and make writing your priority. Through the support of this coaching program, you will set a compelling yet realistic goal, break it down into achievable milestones, and take action to overcome your challenges for lasting change.
Included:
1 1.5hr goal setting session (via online conference call)
11 1hr coaching sessions (via online conference call)
1 complimentary Pen to Paper journal (worth £10)
Regular booked session slot every two weeks
£1100
Terms and Conditions
1 All fees are payable monthly in advance. Invoices will be due 48hrs prior to the commencement of the coaching session/ period. Full monthly fees will be payable for each month or part thereof delivered.
2 Minimum of two weeks notice must be given of discontinuation of sessions. No refunds will be given for part months.
3. Minimum 48hrs notice must be given for rescheduling of a session. Any sessions not rescheduled in this time frame or cancelled will be charged at normal rates
4 In the unlikely event that the Coachee doesn't maintain a professional and respectful manner, the Coach reserves the right to cancel sessions, with no refund.